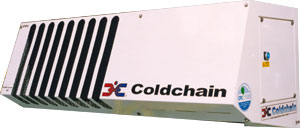 The 4350S/SE is Coldchains largest transport refrigeration unit currently available. This 4350 watt unit is ideal for vehicles up to 6M in length with temperatures down to -20°C.
Modular design permits the users individual requirements to be included within the unit.
A zinc passivated and power coated condensing unit provides excellent durability.
All Components offer reliability and longevity.
Environmentally friendly R-404a refrigerant.
Electronic thermostat control allows complete ease of use.
Diagram:
Specification:

-20°C

20m³

0°C

24m³

4°C

26m³

-20°C

2250watts

0°C

4350watts

M³/hr

2760m³/hr

Volts

380v

220v

-20°C

1800watts

0°C

3500watts

Kilograms

160-204kg