Hydronic 10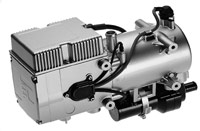 The Hydronic 10 is normally fitted to broad beam boats and has four slim line radiators that are fitted as standard, but has plenty of extra capacity to expand on this if required.

The heater unit is installed alongside the engine. A water line is connected to the boat's calorifier to give domestic hot water. From this line heated towel rails and drying locker outlets are possible. This offers the flexibility for summer use to avoid heating the cabins unnecessarily.
A second hot water line takes heat to the cabins. The hot water is converted into warm air via the slim line radiators.
Alternatively low current consumption fan blowers are available to work in a similar way to a car heater. Blown warm air is then available by switching the individual heater units as heating is required. These can be linked to individual cabin thermostats for full system control.
The water heater's own thermostat will control the system temperature automatically, very much as a domestic boiler does.