Hydronic 5
Heating for passenger compartments and engines.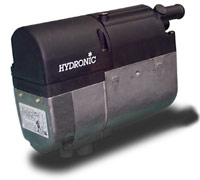 Water heaters have the advantage of being able to pre-heat the passenger compartment and the engine. They are usually installed in the engine compartment and integrated into the vehicle's cooling circuit. The heat energy is taken from the vehicle's own heat exchanger and just the right amount of warm air is blown into the cab through the existing air vents. A timer to program the time at which the heater should start or a radio or telephone remote control - depending on your requirements - provide additional benefits.
Your advantages:
Pre-heat the cab and engine, double the benefits. Spares the engine, saves fuel, environment-friendly start.
Transfer the warm air via the vehicle's own air vents.
Low fuel consumption.
Comfortable, independent fan operation in summer (Hydronic 4/5 optional)
Full electronic control of control sequences.
Continuous functioning monitoring.
Safety and diagnostic system.
Low maintenance, easy to service.
Heaters have an EC type approval for heaters from the German Federal Office for Motor vehicles and are GS tested.