Donít waste fuel! Heat your vehicle with an Eberspaecher.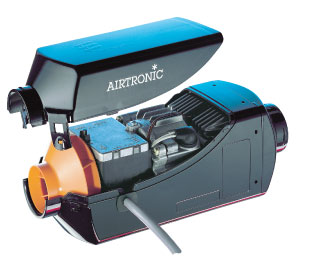 The D2 Airtronic Independent Heater from Eberspaecher is the ideal solution for : Trucks, Boats, Cranes and small Leisure and Utility Vehicles.
Class leading 2.2 KW heat output
Petrol and Diesel models available
12V or 24V Options
Only 310mm overall length.
Wide choice of control switches and timers ( 701 series shown )
Weighs Only 2.7 Kgs
Under and Over Voltage cutout.
Power consumption - less than 2 Amps ( 24V)
Fuel Consumption average 0.15 L/Hr
Standard fit as a night heater for most Truck OEMs
Full spares and technical advice backup from Coldchain Ltd.
Save your engine! Let an Eberspaecher keep you warm.